When a multi-national retailer came to us looking for assistance in revamping their corporate web presence, we set about delivering a website that would have the client cutting a rug with glee.
Carpetright – well-known across the UK, Holland, Belgium and Ireland – was in the market for a new corporate portal; something set apart from its consumer-facing website, that could keep its investors, shareholders and stakeholders up to date.
Working closely with the retailer's in-house web team, we developed a number of technical solutions to ensure the site was easy to use – both for end users and those who would be updating the content.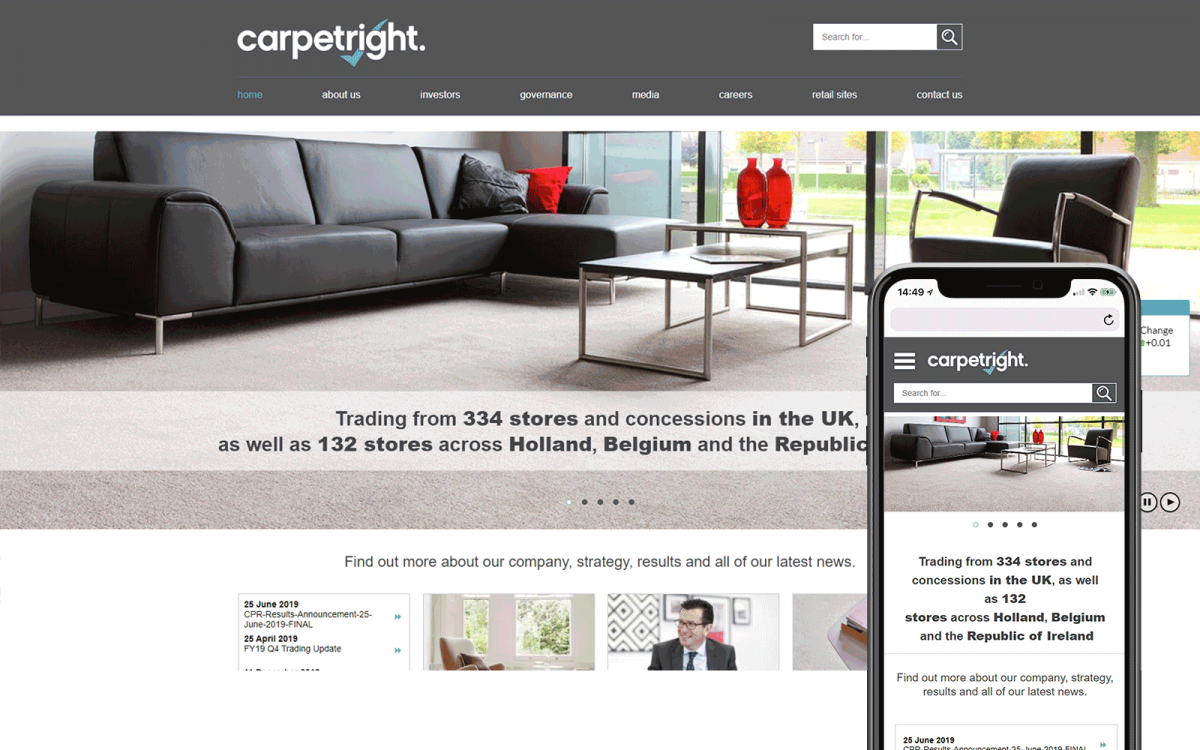 Usability and accessibility to all was a key focus for Carpetright and we worked hard to ensure the site confirmed to WCAG2 (Web Content Accessibility Guidelines) Level AA.
Our work also resulted in the website gaining a mark of approval from RNIB for its accessibility – proving that the end user experience was of utmost importance.
Wilf Wright, CEO of Carpetright, said: "I'm delighted with the new website and result of the RNIB audit. We know there's more work to be done and we'll keep looking for ways to improve the digital experience to make the site more inclusive for all our customers and investors."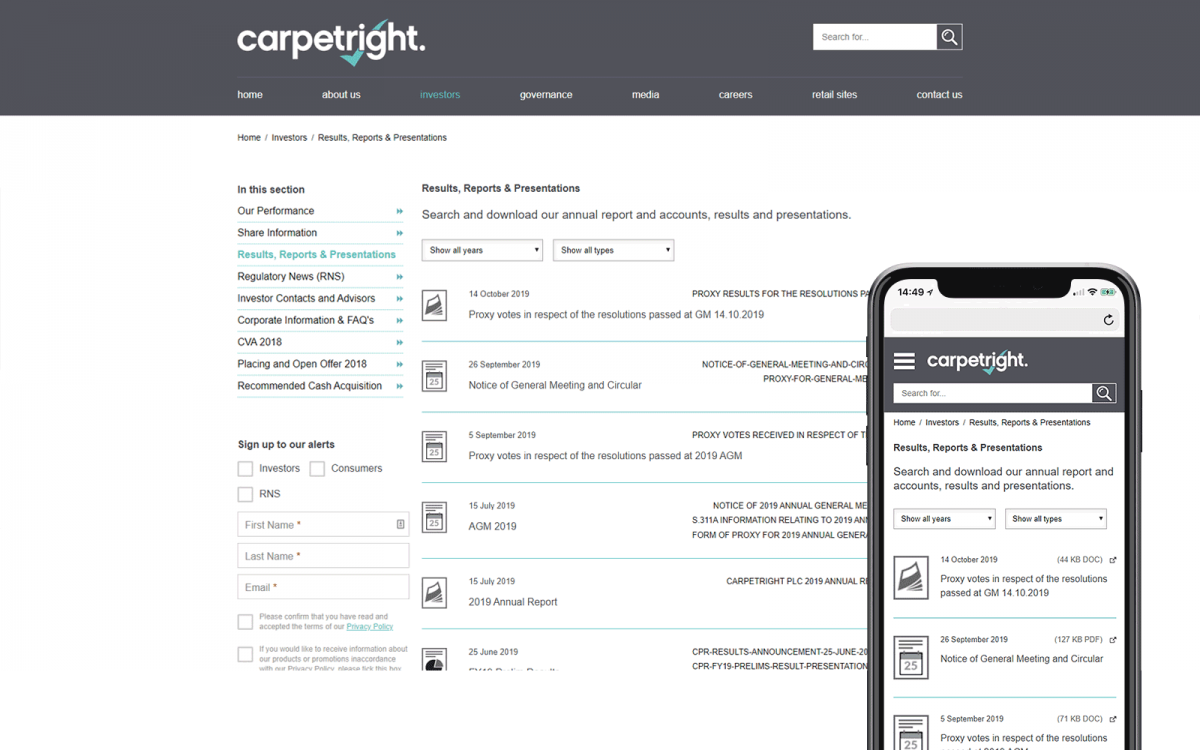 Another key concern for Carpetright was ensuring that the site was accessible from all devices.
Custom integration with share price tools from INVESTIS provides investors with up-to-the-minute share price information, while our mobile-friendly framework allows this information to be freely accessed, whatever device the user is browsing on.
The site is also easy for the Carpetright team to update in-house, providing them with the opportunity to share relevant news and successes with their stakeholders – and even to embargo announcements until a chosen time. All updates – including results, reports and presentations – can then be sent automatically to registered users using an opt-in email notification system. A multimedia library, file search capabilities and custom RSS feeds also enable the team to provide a fully-rounded service.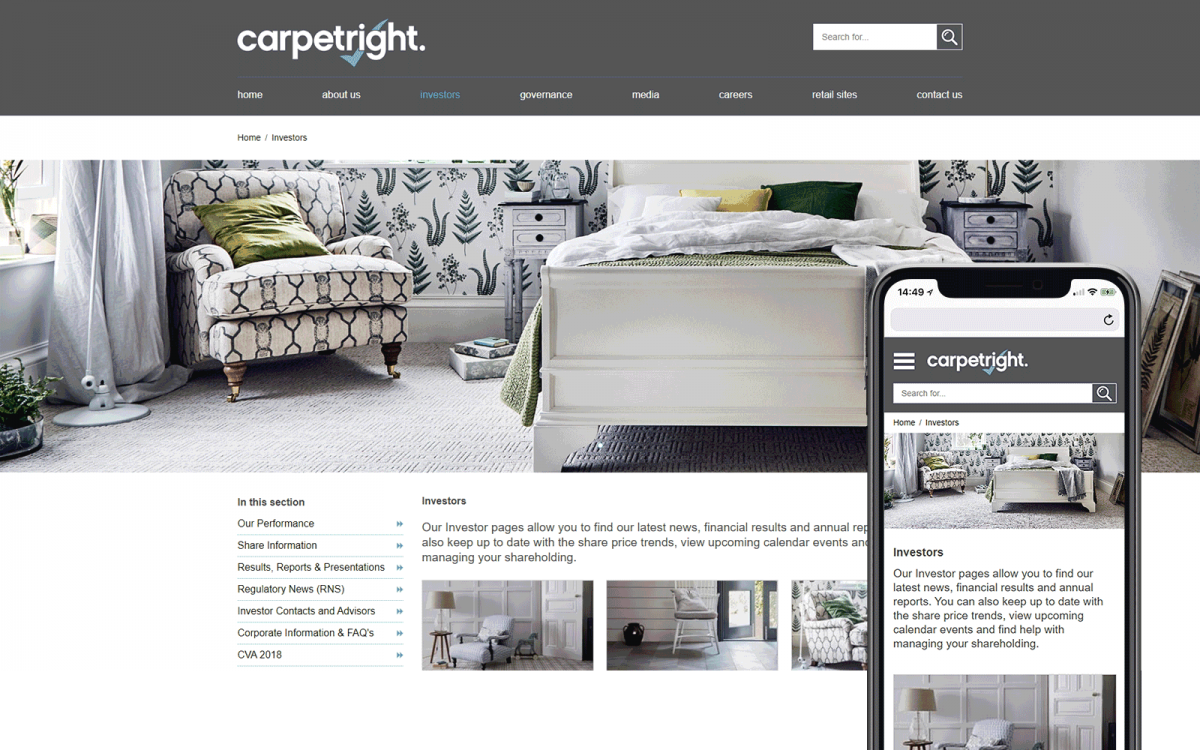 And our relationship with Carpetright doesn't end there… we've also worked with their consumer team to develop a series of mobile-friendly email templates for its exclusive 'HouseBeautiful' range of flooring.
Much like Carpetright themselves, we've laid a solid base on which they can now build and grow in the digital landscape.
Request a quote
Got a project we can help with? Let us know and we'll get back to you within one business day.