Professional web design company in Glasgow.
We help businesses reach their potential with great websites. We care deeply about results and draw on over 20 years' experience to create the best websites for every audience.
We have built websites for several businesses in Glasgow, as well across Renfewshire, Lanarkshire and Ayrshire. If you are local to the area, we are a business you can trust.
We've been building websites since 2000. We draw on this experience to build websites that achieve meaningful results.
When you work with us, you get more than just a great website. You get a digital partner that will help grow and develop your business.
Contact us for a quote today. We're available Monday to Friday and we're happy to provide advice.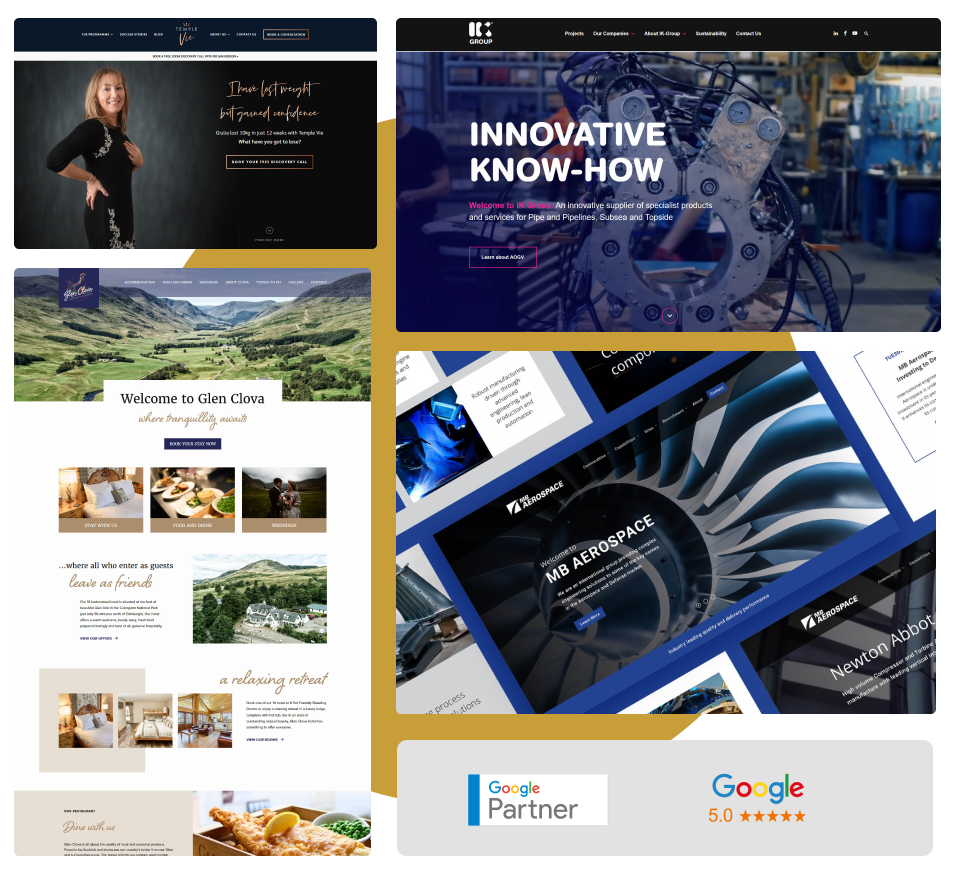 Glasgow Web Design - How we design websites
We will work closely with you to define your goals and what your website should achieve. We will get to know your business and audience, so we can create a website that delivers lasting value.
All of our websites are built from scratch. We don't use off-the-shelf templates. We can build a website to your specification or we can help you figure out what you need if you're not entirely sure.
We believe web design in Glasgow should deliver lasting value to your business, which is why we place so much weight on understanding your business. This is the best way to build a website that will deliver enquiries, sales and growth.
We build websites for SMEs and larger businesses in every niche, from finance and professional services to e-commerce and automotive. Our Glasgow web design team is capable of taking your ideas and turning them into reality.
Our web design approach
Our design philosophy centres around what we can do to provide the best user experience in a way that gets the best possible results for your business.
For example, websites that are super-fast, responsive and logically laid out have a strong base to work from. From here, we can think about innovative forms of content, contextual language and providing the best experience across your user's journey.
Our experience working with businesses in Glasgow puts us in a fantastic position to help your business grow online. We will not only build you a great website, but we'll work with you to get the most from it now and in the future.
With Web Integrations, you know what you're going to get - a high-performance website that your visitors will love using. We go deeper than just designing a website, by getting to know your business and audience in greater detail.
Request a web design quote
Get started today! Request a quote for website design. A member of our team will usually get back to you during the same working day. We're available Monday to Friday by email or phone.
Get a free quote within 24 hours
Frequently asked questions
How long does it take to design a website?
Much like the cost question, this depends on the size and complexity of your website project. A smallish website typically takes between 4-6 weeks, whereas a larger project may take anywhere between 2-6 months or more. Contact us today and let us know your requirements and we'll be glad to advise.
Can you help my website get found in Google?
What other services do you provide?
Do you design for mobile and tablets?
Yes, every website we build is mobile-responsive and will work on any device including the latest mobiles and tablets.
Will I be able to manage my website?
Absolutely! Every website we build comes with an easy to use content management system, allowing you to manage and update the content on your website with ease. Our team will give you training and instruction and everything you need to know to effectively maintain your website.
Request a quote
Got a project we can help with? Let us know and we'll get back to you within one business day.