Looking for an Inverness web design company? Then you're in the right place. We design and build websites for Inverness and Highlands based businesses and organisations.
Your business doesn't just deserve a fantastic website, it NEEDS one to outperform your competition online and make customers stick. That's where our web design service comes in.
We have helped hundreds of businesses transform their online presence with a website that delivers a satisfying and sticky user experience. We combine over 20 years' experience and a local knowledge of Inverness to provide a personalised service.
We've built dozens of website for businesses and organisations across Inverness and the Highlands.
We are different because we build websites based on insight. We will get to know your business and audience before anything else. This way, we can build you a website that's a successful arm of your business, not just an add-on.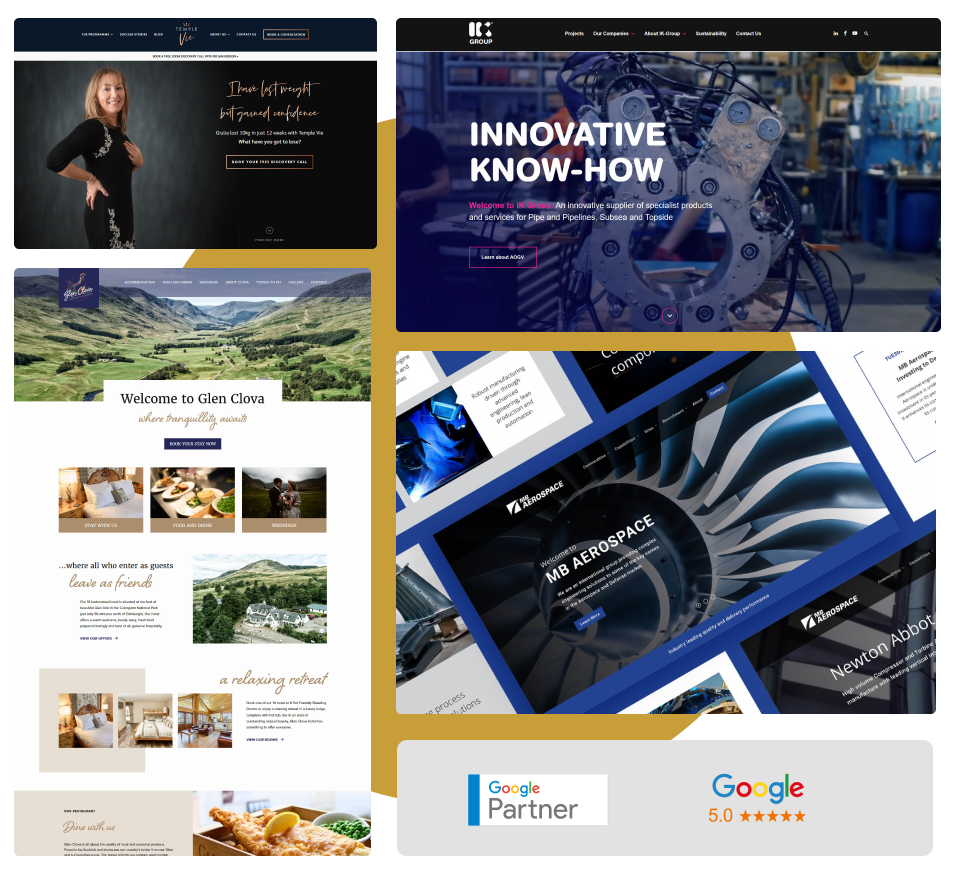 Inverness Web Design - How we design websites
We will work with you at the earliest stage of your project to determine the goals and aims of your website. We will learn about your audience and what makes them tick to design a winning website.
The first stage of building a website is the research stage. This is when we discuss your audience, competitors and market. From here, we can build conceptual ideas and formulate a plan and a website to achieve your goals.
We can design a website from scratch, a website based on other websites you admire, or we can design a website to your exact specification.
We will make wireframes of the design so you can see the website for yourself prior to it being built. This is a great opportunity to tweak the design.
Once you are happy with the wireframes, building will begin. It can take 2-3 weeks to build a basic brochure site and several weeks to build an e-commerce store. The size of your site and the complexity will determine the timeline.
No matter the type of website you need, we have the experience and skill to create what you want.
Our web design approach
Being beautiful isn't enough. Websites have to do more, like load quickly, respond well and be easy to navigate. This is true of any website, whether it serves an Inverness audience or a national audience.
Our website design philosophy is simple - what needs to be done to provide the best user experience? What do users need from us?
Whatever the goals and aims of your website, we believe that good user experience is the key to achieving them.
The quality of our websites is exceptional - they work flawlessly, load fast and are designed to meet the demands of their audience.
We've designed and built hundreds of websites for businesses in Inverness, putting us in a great position to bring meaningful value to your business.
Get a web design quote for your Inverness or Highlands based business
Start your website project today! Request a quote online today and we'll get back to you within 24 hours.
Get a free quote within 24 hours
FAQs about our Inverness web design services
How much does web design in Inverness cost?
The costs of designing and building a website varies depending on your exact requirements. We offer a free quote, so get in touch today to find out. We'll usually get back to you within 24 hours.
How long does it take to build a website?
The time to design and build a website typically depends on your requirements. A smallish website with around 10-15 pages might take around 4-6 weeks, whereas a larger project with more complex functionality could take a lot longer. Contact us today and we'll be glad to advise!
Do you provide website hosting and support?
Yes, we provide a fully-managed website hosting service and take care of uptime, backups, SSL certificate administration and more. We can also register and manage domain names on your behalf.
How many websites have you designed?
We've worked on more than 400 website projects in the 20 years we've been in business, working across both the private and public sector to meet even the most demanding briefs. For a small sample, why not check out some of our recent case studies
Do you provide digital marketing services?
Yes, we can help with search engine optimisation (SEO), pay-per-click (PPC) advertising and a whole lot more to help you get the most from your website and online presence.
Can I see some examples of your work?
Absolutely, head along to our case studies page to read about some of the recent projects we've successfully delivered!
Request a quote
Got a project we can help with? Let us know and we'll get back to you within one business day.