Professional web design services in Edinburgh
Are you looking to build a great new website that will help grow your business? You've come to the right place. We specialise in creating sites with thoughtful design and innovative ideas.
Our talented Edinburgh web design team has helped hundreds of companies across the Edinburgh & Lothians region—from tourism operators and professional service providers through to engineering firms and manufacturing companies - all achieve success online by using fresh new web designs tailored specifically for each industry sector they serve.
We've been building websites since 2000 and our experience ensures that your website will meet the demands of your audience. We make the whole process of launching a new website easy by handling the design and build for you. We can even host it to bring everything under one roof.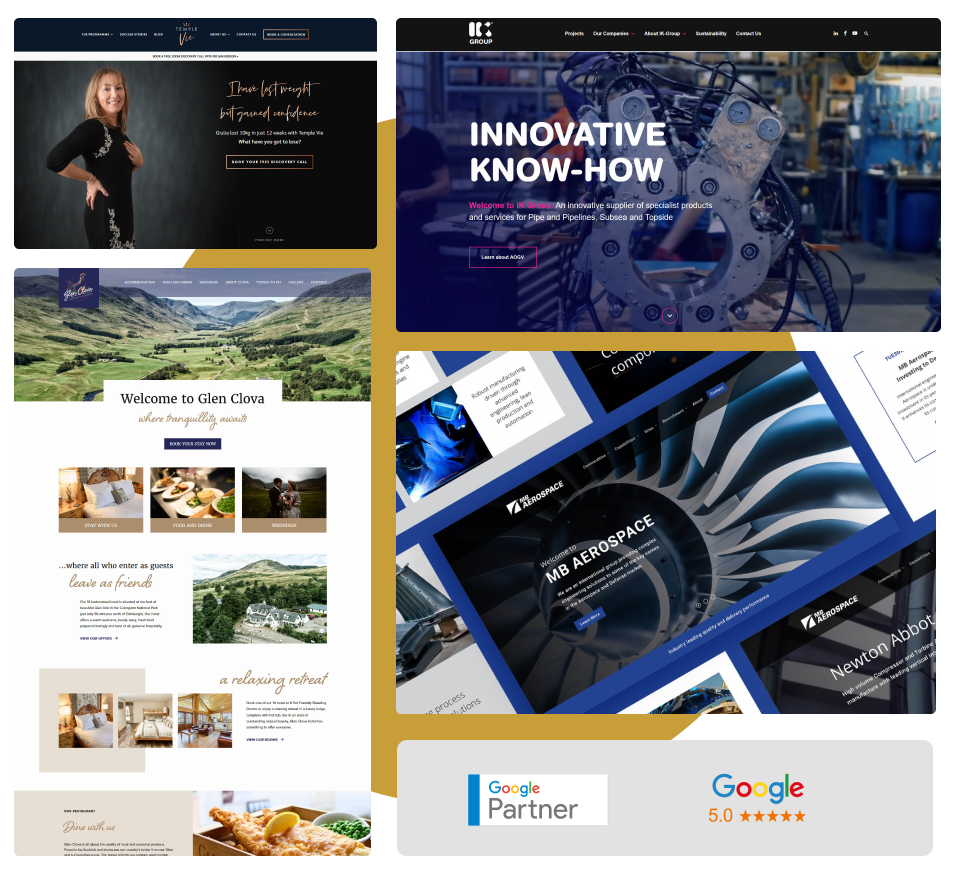 Edinburgh Web Design - How we design websites
We get to know your business, audience and market before designing anything. We'll discuss ideas, concepts and competitors to determine what you really want and what will get the best results.
We build all websites from scratch, so all designs are unique. We can build a website to your precise specification or we can provide a complete design service.
The websites we build are fast and responsive. We aim to design websites that not only look good but perform spectacularly too. This is essential for your Edinburgh business to make a great first impression with your visitors.
By engaging us as your web design agency in Edinburgh, you'll get a great website that's designed to achieve your business goals.
We deliver the right solution every time. All businesses face intense online competition and some of your competitors will have much bigger budgets than yours. By getting the basics right, such as a fast-loading website with logical navigation, you can set yourself up to compete with the best in your industry.
Our web design approach
The only reason people visit your website is because they want something, be it a product or a service that you offer. Our aim is to make sure your visitors get the best user experience when they get there, and most importantly, that your website works hard to turn them into a customer.
The basics of website design are purpose, navigation, speed and layout. These elements are powerless on their own, but powerful when combined. They dictate how your website feels and responds and how it delivers content.
Our experience working with businesses in Edinburgh gives us a key advantage when designing your website. It enables us to work closely with you and understand your market and audience, be it local, national or global.
By working with Web Integrations, you get an Edinburgh web design company that cares about you, your brand and your audience. We have hundreds of happy customers and we work with businesses of all sizes in all niches.
Get a web design quote
Get started today! Click the button below to arrange a free consultation or quote with one of our friendly team.
Get a website design quote today
Frequently asked questions
How long does it take to design a new website?
This depends on the size and complexity of your website project. A small website can typically be delivered in between 4-6 weeks, whereas a larger site with bespoke functionality could take anywhere between 2-6 months. Contact us today and we'll be glad to advise.
Will I be able to manage the website myself?
Yes, every website we build comes with an intuitive content management system. With some help and instruction from our team, you'll be able to add new pages, edit existing pages, update content, add files and much more.
Can you optimise my site for Google?
Yes, when we launch a new website we undertake an initial on-site optimisation process including making sure that all pages have relevant page titles and meta descriptions, adding an XML sitemap, setting up Google Search Console, configuring SSL certificates and much more. For more advanced optimisation check out our search engine optimisation (SEO) services
Can you provide web hosting services?
Yes, in fact we host and support the majority of the websites we design for clients in Edinburgh. We have a network of dedicated servers and an impressive uptime record. Our managed hosting service means we take care of everything for you, freeing you up to spend time on more important matters for your business.
Request a quote
Got a project we can help with? Let us know and we'll get back to you within one business day.