Professional Web Design in Dundee
With so many generic websites out there, our Dundee web agency helps you stand out. We'll guide you through the web design process and take care of it all, so you can focus on other things that matter.
We can design and build you a website from scratch, or we can create a custom website built to your precise specification.
Website design in Dundee is something we have a lot of experience with, having helped hundreds of local and national businesses based in the area.
We have worked with businesses across Dundee, Tayside and Angus. If you are local to Dundee, we are a top web design agency you can trust to build you a fantastic website.
How are we different? We're different because we think about your online goals and how your website can achieve them. We go deeper to pull out better results to make your website work hard for your business.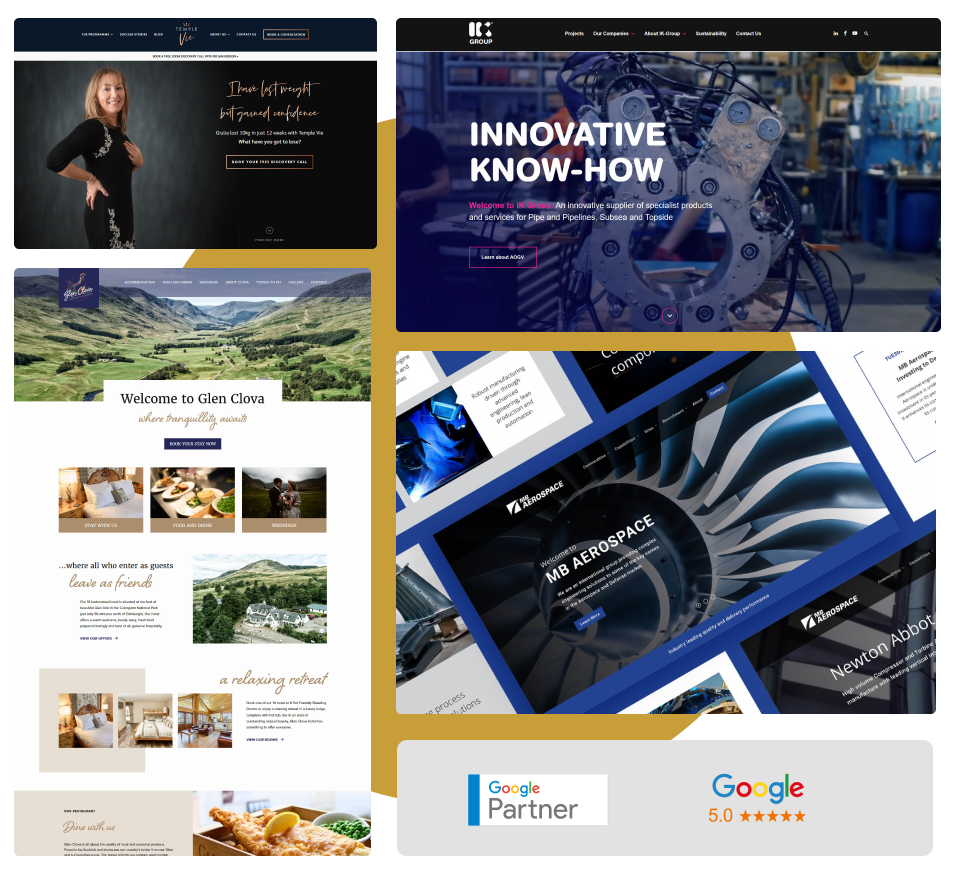 Dundee Web Design - How we design websites
The first step to making a great website is understanding your business and audience. Only then can we achieve great results. This higher level of insight drives every design element we create.
After initial research and brainstorming sessions, we will create wireframes for your website in Dundee. Wireframes are skeletal outlines of your site that serve to present the design so you can see how everything will look once it's built.
Once you are happy with the wireframes, building will begin. This process from start to finish takes 2-3 weeks but it can take several months depending on the size and scale of the site, as well as the complexity of the build.
We build websites for all industries, including food and beverage, automotive, finance, engineering and professional services. We also build websites to any specification, such as e-commerce stores and brochure sites.
Our web design approach
When was the last time you clicked away from a website because it didn't deliver a good user experience? Maybe it didn't load fast enough, or perhaps you couldn't find the content you wanted?
We've been building websites in Dundee since 2000 so we've seen first-hand the evolution in web design from plain text to tables to Flash to JS and HTML5. This evolution has led to where we are today - an era where people demand a great user experience.
This demand means that weaknesses in speed, design, navigation and content go unforgiven. If a website doesn't deliver the experience and content people want, people move on to another website without loyalty or care.
In the competitive online world, only the best will thrive.
At Web Integrations, we put user experience first. We will build you a website that has great design, speed, responsiveness and navigation. Everything will be baked in to make sure that your website works hard to turn visitors into customers.
Get a quote from a Dundee web design company today
Contact our friendly team today for a no-obligation chat to discuss your requirements and we'll be glad to advise. Or you can request a quote online today and we'll get back to you within 24 hours.
Get a free quote within 24 hours
FAQs about our Dundee website design services
How much does web design in Dundee cost?
The costs of designing and building a website varies depending on your exact requirements. We offer a free quote, so get in touch today to find out. We'll usually get back to you within 24 hours.
How long does it take to design a website?
The time to design and build a website typically depends on your specific requirements. A smallish website with around 10-15 pages might take around 4-6 weeks, whereas a larger project with more complex functionality could take a lot longer. Contact us today and we'll be glad to advise!
Do you provide website hosting and support?
Yes, we provide a fully-managed website hosting service and take care of uptime, backups, SSL certificate administration and more. We can also register and manage domain names on your behalf.
How many websites have you designed?
We've worked on more than 400 website projects in the 20 years we've been in business, working across both the private and public sector to meet even the most demanding briefs. For a small sample, why not check out some of our recent case studies?
Do you provide digital marketing services?
Yes, we can help with search engine optimisation (SEO), pay-per-click (PPC) advertising and a whole lot more to help you get the most from your website and online presence. We help several businesses in Dundee get found online and generate more traffic and more enquiries. Contact us today to find out more.
Which sectors do you work in?
We design websites for Dundee and Tayside based companies operating in many different sectors - oil and gas, travel and tourism, engineering, manufacturing, professional services, food and drink, and a whole lot more.
Request a quote
Got a project we can help with? Let us know and we'll get back to you within one business day.