63,000 people search Google every second. The search terms your business would benefit from ranking for probably pull in hundreds of thousands of results. This means there's A LOT of competition for those coveted top places.
The fight for a number one finish is always intense. You'll compete against businesses in Dundee that have invested in their SEO strategy for several years. Even industries with low competition have their strong players and Google Search mainstays.
At Web Integrations, we help businesses get a foothold in Google and go on to dominate their industry. This process is a long-term investment that will yield a positive return. We say this with absolute confidence from experience.
We have clients in the heart of Dundee and across Tayside and Perthshire.
Our promise to you is simple: we will get your website competing in Google in a way that will yield long-term results.
Fancy a quote? Fill in this form or contact us. We're available Monday to Friday for a chat and all advice at this stage is free.
Measurable SEO results
Google is not the place for complacency. You will need a sound SEO strategy in Dundee with clearly identified and realistic keywords to get a return on your investment. This is where we come in.
Above all else, our clients appreciate our uncanny ability to get results. No matter the nature of your business in Dundee or the competitive landscape, we will develop an SEO strategy that achieves what you want within your budget.
We work mainly with SMEs, but we also work on behalf of larger companies to develop winning positions in Google Search. We have a track record for getting results in many different sectors.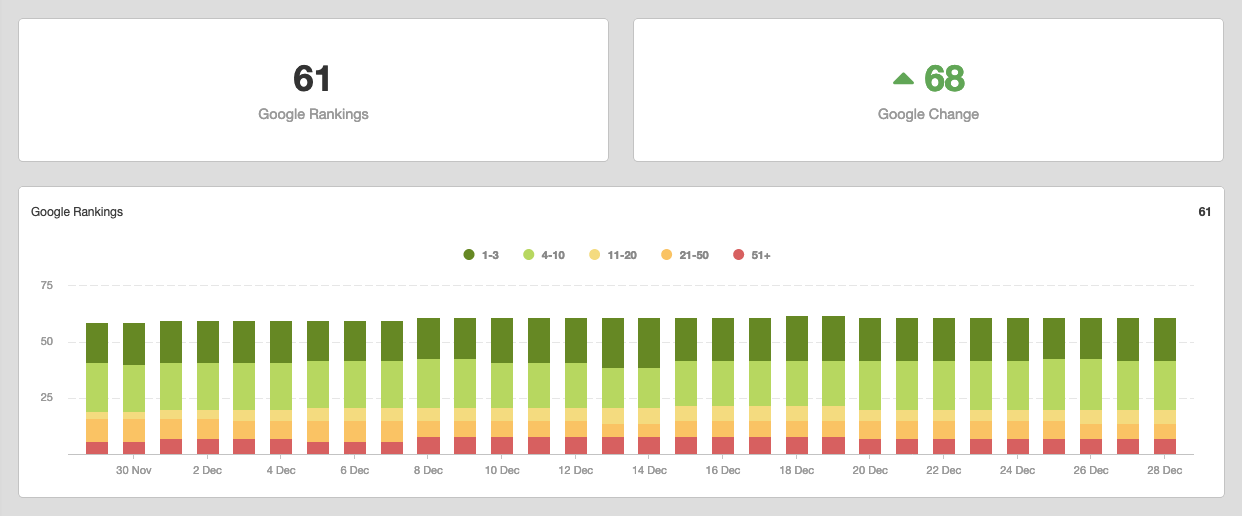 When you work with us, we will identify the keywords in Google that will generate the best returns for you based on your budget. We won't set unrealistic expectations and you will be kept up to date every step of the way.
In addition to getting your website in Google, we also help with technical SEO and manual and automatic Google penalties.
SEO Dundee - how we do it
We do the basics right and follow Google's best practices when developing SEO strategy. This means we focus on quality content, relevance, page speed and on-page optimisation to get results.
The days of building hundreds of backlinks to move up Google rankings is over. While this works in isolated cases, it is not a sustainable long-term strategy. You need a more in-depth approach to achieve long-term results.
This is a case of doing what Google wants, not what we think they want. For example, page speed is now a ranking factor, which means Google ranks slower web pages lower. Another example is long-form content, which Google loves.
Here are some of the SEO techniques we use:
On-page SEO in Dundee
Page titles and meta data
Schema mark-up
Alt tags
Contextual language
Natural language
Heading tags
Internal links
Technical improvements to pages (page speed, user experience)
Off-site SEO in Dundee
Press releases
Social media
Guest posting
Videos and images
Infographics
Citations (local SEO)
Link building (general SEO)
Your SEO strategy will be Google-friendly and achieve long-term results.
Request a quote
Got a project we can help with? Let us know and we'll get back to you within one business day.