We design and build beautiful, user-friendly websites for desktop, mobile and tablet.
Combining over 22 years of creative and technical expertise, we design and build websites for businesses and organisations in Aberdeen and across the whole of Scotland.
How we do it
When we embark on a new web design project, we don't jump straight in to colours, images and content. Successful projects begin by asking questions, getting under the skin of your business, and by truly understanding your goals and aspirations.
When you work with us, we won't just design you a pretty looking website. At Web Integrations our mission is to design and build websites that will become an invaluable arm of your business. A workhorse that drives enquiries, sales and awareness at every interaction.
Whatever the challenges of your business or organisation, we are here to help squeeze every last drop out of your online presence.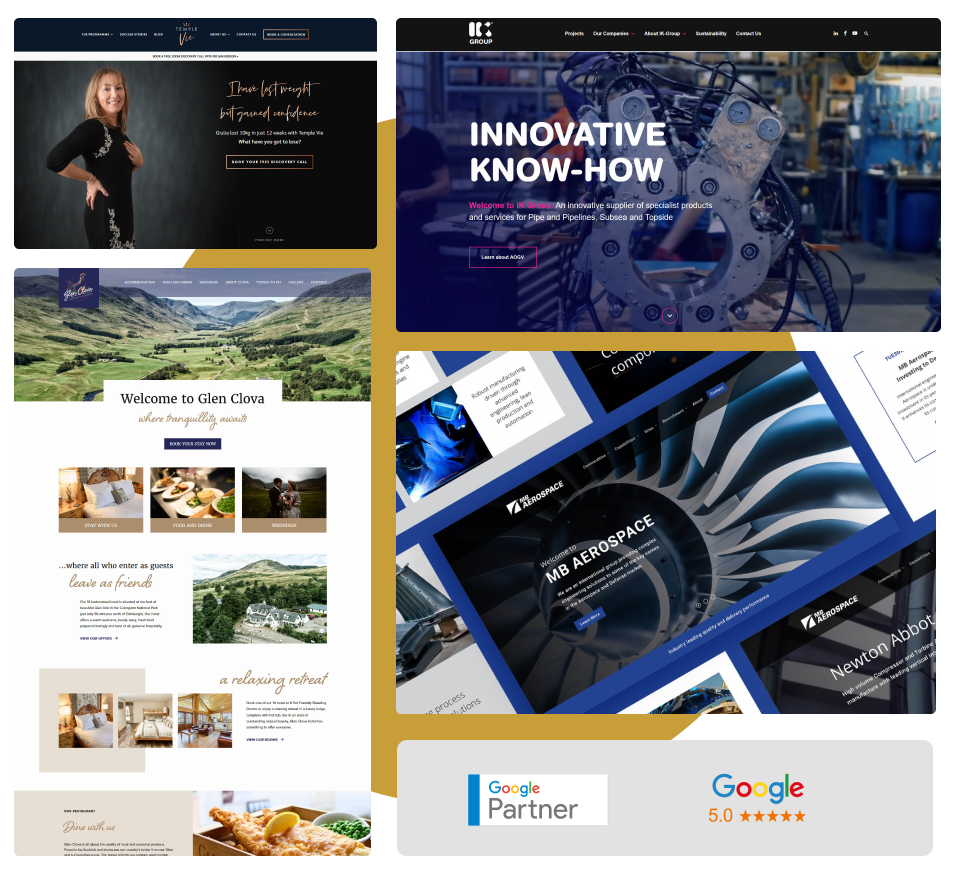 Our experience
We've designed and built hundreds of websites for clients in numerous sectors; B2B, oil and gas, engineering, travel and tourism, food and drink, professional services, the third sector, non-profits and a host more.
Our web design team based in Aberdeen will work closely with you throughout the duration of your project, from the initial discovery and planning phase, through to the creation of wireframes, to the final unveiling of your brand-new website.
We take great pride in designing websites with eye-catching visual design, gripping content and intuitive navigation that makes your website a joy to use.
Our aim is to design high-performance websites that not only look great, but work flawlessly across desktop, mobile and tablet devices, load lightning fast, and drive real and measurable results for your business.
What next?
Why not have a look at some of our recent work for some inspiration?
Whether you're looking at redesigning your existing website or need a new one, contact us today to find out how we can help.
How much does a website cost?
The answer largely depends on how many pages your website has, bespoke functionality and any third-party integrations, so it's impossible to say without a chat about your specific requirements. We offer a free consultation and quote, so contact us today to find out!
How long does it take to design a website?
This again varies depending on the size and scale of your project. A small site could take just a few weeks, whereas a much larger site could take anything between 2 to 8 months.
What is the process for designing a new website?
Typically we'll start with a chat about your business and goals. You may already have a brief which gives us an idea of your design and functionality requirements, otherwise we'll work with you to create one. A sitemap structure is then produced to determine the sections, pages and content required for the website. From there we'll put together some initial design concepts for you to review. Based on your comments and feedback we'll evolve the design to establish the final look and feel. Once the designs have been signed off, our development team then begin to transform it into a usable, mobile-friendly site, as well as developing any functionality requirements. Finally, the site is then thoroughly tested and optimised before being unveiled to the world!
Do you design for mobile and tablet devices?
Of course! Every website we build is responsive, meaning that it will work on even the very latest mobile phones and tablet devices.
Do you provide web hosting too?
Yes. We provide a managed hosting and support service and take care of all the infrastructure requirements needed to host your new website. We can even liaise with your existing provider to arrange a smooth transfer.
Can you optimise my site for Google?
Yes. We will initially undertake a range of on-page optimisation best practices to ensure you can be found in the search engines. Such measures include populating pages with relevant meta titles and descriptions, configuring an XML sitemap, setting up Google Search Console, using SEO-friendly URLs and ensuring the site loads quickly. This does not however guarantee that your site will appear first or on page one of the search results, especially for competitive keywords and phrases. In such cases you may wish to engage our on-going search engine optimisation (SEO) campaign services.
Can I manage the website myself?
Yes. The majority of the sites we build use a content management system (CMS) which allow you to add and edit pages, news articles, images, video, files and much more. No technical knowledge is required and we provide training and support as standard.
I only need a few pages designed, can you help?
Yes! We regularly design microsites and landing pages for marketing campaigns, events, promotions and more. Just let us know what you need.
Can you help with copywriting and photography?
Yes. We work with talented copywriters and photographers that know exactly how to write and shoot for the web.
Can I see some examples of your work?
Yes! Visit our recent work page to see some of the projects we've recently worked on for other businesses and organisations in Aberdeen and beyond.
What else we do
Request a quote
Got a project we can help with? Let us know and we'll get back to you within one business day.