Google constantly hammers home the fact that meta descriptions don't impact search rankings.
Meta descriptions and titles are often overlooked in favour of other, more "important" factors, like backlinks, keyword optimisation, and the speed of a webpage.
But just because they aren't "key" ranking factors, it doesn't mean they aren't useful. In fact, they can be the biggest driver for improved click through rates.
This leads to more engagement, more traffic, and a higher organic click through rate (CTR) - and you know what that means? Google will see that searchers are interacting with your content and place it higher in their search results.
So how do you make your meta titles and descriptions enticing enough to get those much-coveted clicks?
We've got some tips up our sleeve.
1. Be descriptive
People want to know what they're getting themselves into before they click through to a page, and your meta information gives them a brief overview of what to expect.
Ideally, you want to provide a summary of the page's content and introduce users to the key information they'll get if they take the trouble to click through.
2. Ask questions
Using questions as a tool to increase engagement has been a go-to copywriting practice for years. The technique can also be used when writing your meta descriptions.
Start by putting yourself in your audiences' shoes and come up with a selection of questions they would ask about your topic. Shortlist the frontrunners and incorporate them into your description.
3. Identify important keywords
When users go to Google, they will actively be looking out for the words they typed into the search bar.
In order to want to click through to your webpage, searchers need to see relevant keywords so they know their visit to your site won't be a waste of time. And, if you want to rank for a particular query, those keywords should be mentioned at the very least in the meta title.
For example, if someone has typed "eco-friendly shoes" into Google, they'll be looking for those words in the description, too.
4. Use persuasion
You'll be competing against a ton of results, all of which are fighting to get clicks. This is where a sprinkle of persuasion can work wonders.
Sometimes, a call-to-action (CTA) might be appropriate, but this isn't always the case. Regardless, it's worth adding in a sentence that invites a response or encourages an action to create a tug in your direction.
5. Use the right amount of words
Google provides a limited amount of space for your meta titles and descriptions. If they're too long, they will be truncated and you might lose the most important part of your description.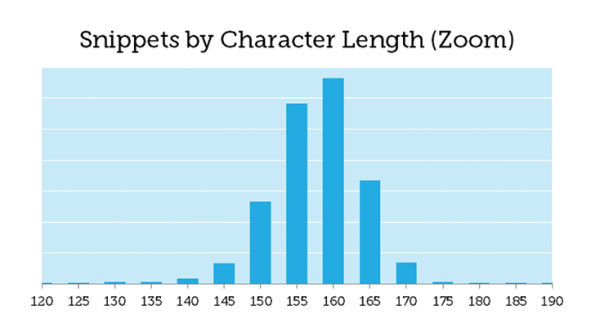 The standard length for a meta description is 156 characters but, as you can see from the graph above, they most commonly fall between 145 and 170 characters. Keeping things short and concise will help searchers get an instant understanding of what they can expect from your page.
6. Inspire curiosity
People are curious creatures, and by injecting a little sense of mystery into your meta titles and descriptions you'll tap into their need to find out more.
When a searcher finishes reading your description, you ideally want them to be curious enough about what the page is offering to click through.
This means providing just enough information to show what they'll be greeted with on the other side, but not too much information so that it dampens the curiosity factor.
Don't overlook your website's meta titles and descriptions
Your meta titles and descriptions are incredibly important for generating click throughs and can help you to grab a greater share of organic search traffic. So, spend some time creating enticing meta information and you'll start seeing more engagement and more visitors.
If you need help writing engaging and effective meta titles and descriptions for your website, feel free to contact us today.

Request a quote
Got a project we can help with? Let us know and we'll get back to you within one business day.