National lockdowns and the forced closure of brick-and-mortar stores for months on end led to a rapid surge in online shopping in 2020 and 2021.
While stuck at home, shoppers turned their attention to ecommerce which increased from less than 20% of overall retail sales in 2019 to almost 40% in 2021
It's not just the big brands seeing success. In fact, it's encouraging to see so many independent Scottish food and drink companies embracing the ecommerce trend, from breweries taking their products online for the first time, to agriculture brands carrying out online livestock auctions.
But while brands might be big fish in a small pond in Scotland, the online retail landscape covers the entire globe. Now, food and drink brands face fierce competition. Not only is creating a user-friendly, high-converting ecommerce website key to increasing sales, but it provides the perfect platform for attracting and retaining loyal customers at home and beyond.
Choosing the Right Ecommerce Platform
Before you get started, it's important to choose the right ecommerce platform to build your online store upon. These are basically software that makes it easy to facilitate buying and selling over the internet by incorporating key ecommerce features, like a product basket, payment options, and a checkout.
Most ecommerce platforms offer advanced capabilities, letting you customise your store and create a customer journey unique to your audience.
Here are three of the most well-known platforms to get started on:
Shopify
Perhaps the most well-known ecommerce platform, Shopify hosts online stores in various different sectors. Choose a theme to get started and modify it to match your in-store branding. There are in-built features, like payment processing options, buy buttons, and checkouts.
WooCommerce
WooCommerce isn't a dedicated ecommerce platform like BigCommerce and Shopify. Instead, it's a plugin that you can add to an existing WordPress site so that visitors can easily buy products.
BigCommerce
Drag-and-drop customisable templates mean even the least tech-savvy store owners can create a good looking website on BigCommerce, while the powerful product search feature makes it great for brands with a lot of products.
Which Ecommerce Platform is Right For You?
Different food and drink brands will have different needs. Maybe you already have a website up and running and want to tack an ecommerce element onto that. Or maybe you're starting from scratch and want to make the process as easy as possible.
Before you settle on an option, consider:
How quickly you want to get your store up and running
Whether you have the skills necessary to create a decent design or whether you need the help of a web design agency
Your project, maintenance and hosting budget (several ecommerce platforms require a monthly fee)
Who your audience is (if you already have a loyal customer base, you maybe don't need an all-singing, all-dancing website)
The answers to these will help you choose the right platform for you. Remember to shop around and weigh up the pros and cons of each so you can make an informed decision.
How to Drive Business Growth
When you've chosen your ecommerce platform and have your site set up and ready to sell, it's time to think about ways you can inspire shoppers to make a purchase.
Optimise Your Online Shop
Optimising your online shop means giving it the best chance possible at succeeding. It covers everything from making sure your products can be found via search engines to making sure your pages load quick enough and your site is mobile-friendly.
1. Keyword Research
When someone types a product you sell into Google, you want your online store to show up. This will bring in new traffic and increase visibility around your brand. But, to get to the top of Google (or at least on the first page of relevant results), you have to take some action.
Keyword research involves finding the terms shoppers are using to search for products like yours.
There are several ways you can find out what these terms are:
A) Use a keyword research tool like Ahrefs, SEMRush, or Keywords Everywhere
B) Type your product name into Google and see what autocomplete suggestions the search engine comes up with (you can also do the same on Amazon for more product-related search terms)


C) Check out the keywords your competitors are ranking for via a keyword tool
2. Optimisation for SEO
Once you've got your list of product-relevant keywords, it's time to sprinkle them throughout your site.
Key places to insert them include:
Your meta titles and descriptions
Product titles
Product descriptions
Copy on other relevant pages
Headers and subheaders
Don't stuff every page with all the keywords you come up with. Make sure you're only using relevant ones so that Google understands what your pages are about and why people might want to be directed there.
3. Optimise Page Load Time
The amount of time it takes for your webpages to load can have an impact on your search engine rankings and whether visitors stick around. A whopping 47% of consumers expect a webpage to load in two seconds or less, while 40% won't wait longer than three seconds.
If your page load speed falls outside of these timeframes, you could lose customers and loyalty in the long-run.
Start by evaluating your page speed with Google's PageSpeed Insights, and then try to improve it by:
Optimising your images and videos (size photos according to your design, compress photos, stick to JPEG files where possible, and limit the number of assets on each page)
Enable browser caching
Minimise the amount of Javascript, CSS, and HTML on each page (the more that has to load, the longer it'll take)
Avoid page redirects if you can
4. Generate Backlinks
The more high-quality sites you have linking to your own, the more Google trusts you and your brand. It's like getting a recommendation from the right person. And, the more Google trusts you, the more likely it will be to show your website in the top results.
You can generate high-quality backlinks from relevant sites by:
Creating and sending out press releases
Writing blog posts or talking about your products on relevant industry sites
Linking to other brands and asking them to return the favour
Making sure you link to your site from your social channels and anywhere you get a mention
5. Make Your Store Mobile-Friendly
Many ecommerce platforms will automatically make sure your website is mobile-friendly (which is important, considering mobile commerce is set to grow 68% by 2022).
Other things you can do include making sure text is readable on a smaller screen, incorporating bold and simple calls-to-action, and streamlining the checkout process for a mobile audience.
Branding and Design
Branding and design are crucial in making sure your ecommerce site stands out and attracts the right customers. Competing with thousands of other food and drinks brands is hard, so carving out your own space on the internet is key.
Here's how to make sure your branding and design are spot on while also encouraging more sales.
1. Tell Your Brand Story
Your brand story is what makes you unique. Maybe, like Charles MacLeod, your business spans six decades and two different continents, or maybe your ingredients are particularly sustainable and organic like the Island Bakery.
Make sure you bring out what makes your brand unique to form deeper connections with customers and to instill long-term loyalty. Consumers today are more likely to buy from brands that share the same values as them, so use this to your advantage when driving sales.
2. Take Engaging Product Photos and Videos
Photos are so important in the ecommerce world since shoppers aren't able to hold or see a product in real-life before they buy. The visuals you use on your site should be high-quality and show off your products in their best light (and offer multiple angles, too!).
Take a leaf out of Duncan Taylor's book and showcase razor-sharp images that work together to create a cohesive look and feel.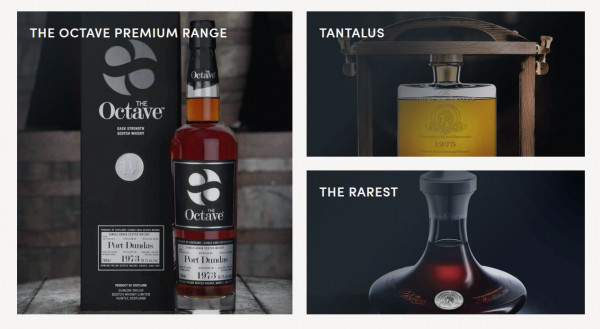 3. Map Out the User Journey
The road to purchase is different for every brand, but it's important that you make it easy and intuitive for customers to get to checkout.
Think about the steps a new customer would take before they buy. Maybe they:
Arrive via a Google search on a product page
They read a bit about the product, but it's not quite what they're looking for so they take a look at your other products
They find something they like and add it to their cart
Before they checkout, they click your About page to learn more about your brand and your shipping information
Finally, they head to checkout and purchase
Make it easy for customers to push through each of these steps by ensuring your navigation bar is clear.
Increasing Conversions
Your website is set up and looking good at this point. Now it's time to increase conversions to generate more sales and land new customers. Most ecommerce conversion tactics revolve around making it as easy as possible for customers to make a purchasing decision.
Let's look at 4 ways you can increase conversions:
1. Customer Reviews
Seeing what existing customers think about your products helps instill confidence in new buyers. Social proof in this form is incredibly valuable, particularly if you're selling to people who haven't heard about your brand before.
A huge 85% of shoppers read reviews before they make a purchase so, if you're not collecting and sharing them, you're probably missing out.
Collect and display reviews by:
Emailing recent customers and asking for a review
Sharing reviews on relevant product pages
Creating a dedicated reviews page
2. Easy-to-Use Checkout
Creating a slick checkout process means customers aren't going to drop off at the last minute. You want to keep the momentum going with the option of a guest checkout, a recap of their ordered products, and information about delivery and shipping if necessary.
3. Provide Payment Options and Solutions
One shopper might prefer PayPal while another might want to use their credit card to purchase. Make it easy for customers to choose their preferred payment method to avoid any last-minute drop offs at checkout.
4. Build Relationships
Selling to and supplying hotels, restaurants, and cafes is an important part of business for many small food and beverage brands. However, these relationships often happen in-person. Adding a page or section to your website about this service can help you reach hospitality companies that are further afield.
Creating an Enjoyable Customer Experience
Taking your business online will help you meet the changing needs of consumers and reach a wider audience. Setting up an ecommerce store and building a website that's user-friendly is crucial if you want to stand out in the competition and attract loyal customers.
Start by choosing an ecommerce platform to build on, designing a site that's on-brand and looks good, and optimising every page so that it stands the best chance at attracting and converting customers.
Request a quote
Got a project we can help with? Let us know and we'll get back to you within one business day.