When we think of social advertising, we often think about Facebook or Instagram. Rarely do we think about LinkedIn. But if you're trying to reach an audience of influential, active business professionals, it's one of the best places to start.
Not only that, but ads run through LinkedIn can be hyper-focused to specific job titles, roles, and locations to ensure you're reaching the people you need to.
So, if you haven't thought about advertising on LinkedIn, but want to get started, here's what to do.
The Different Types of LinkedIn Ads
First things first, let's go over the different types of LinkedIn ads you can run. These vary in where they're placed in user's feeds, what kind of visuals you can incorporate, and what the copy will look like.
Sponsored Content: these ads appear directly in the feeds of the people you want to reach and often feature an image, a video, or a carousel of images: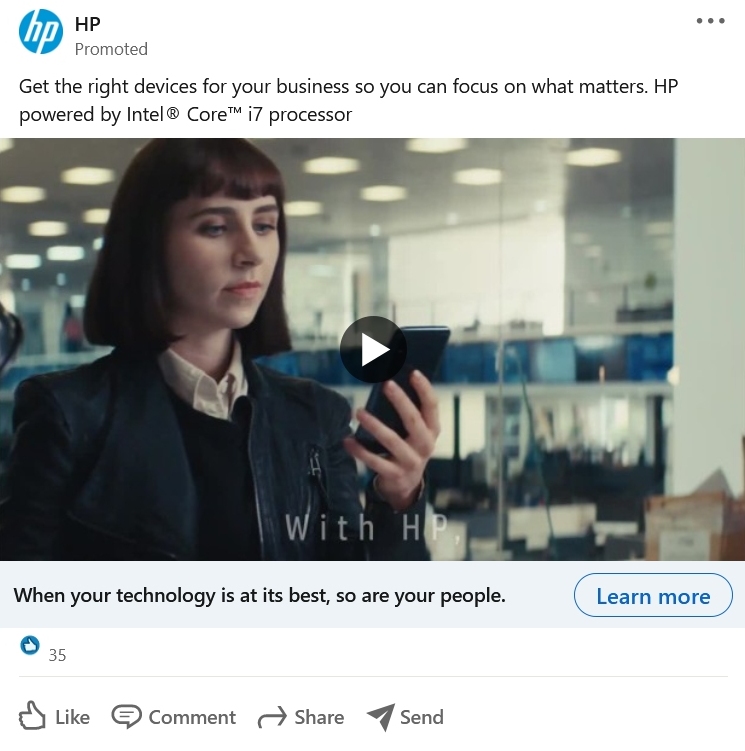 Message Ads: these show up in the inboxes of your targeted users which means they're more likely to be seen than feed ads: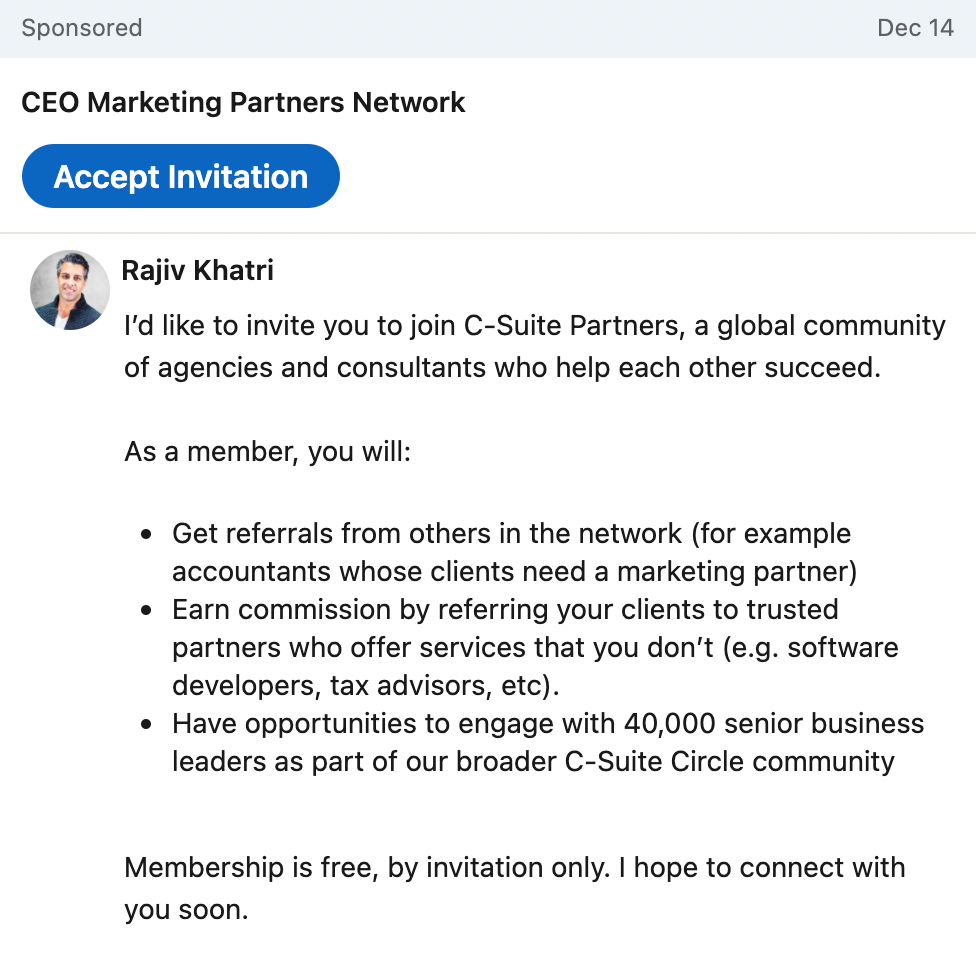 Dynamic Ads: dynamic ads are used to personalise ads based on LinkedIn profile data. For example, you can present different images and different copy to different targeted users: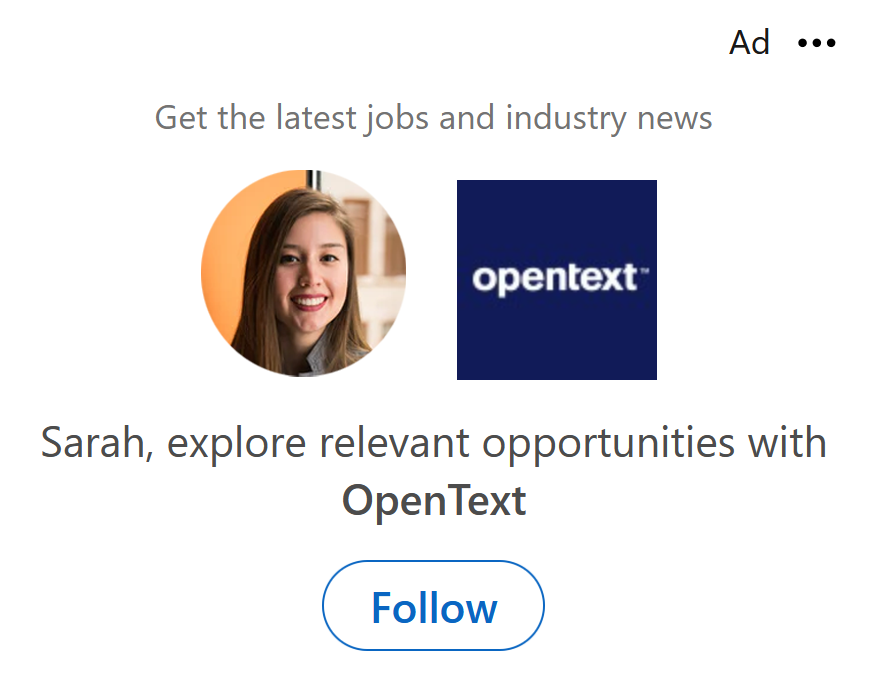 Text Ads: text ads are the simplest form of LinkedIn ads and are presented as just copy in the feeds of targeted professionals:
Lead Gen Forms and Ads: these ads make it easy to grab contact details from LinkedIn users in as few steps as possible. Rather than redirect users to another landing page, lead generation forms and ads can be filled out from the platform itself.
When LinkedIn members click on your ad, their profile data automatically populates a form they can submit with one click. They'll save time and effort. You'll get more accurate and complete information about your leads.
There are two key steps involved in advertising on LinkedIn: setting up your LinkedIn campaign and creating your individual LinkedIn ads.
How to Get Started Advertising on LinkedIn
1. Create a Campaign Manager Account
If you don't already have a Campaign Manager Account, you'll need to set one up. This is the powerhouse of your LinkedIn ads, and it's the place where you'll set budgets, choose your goals, and activate your campaigns from start to finish.
There are several features you can tap into that will help you meet your advertising goals and you can track and measure the results of your campaigns to see what's working and what's not.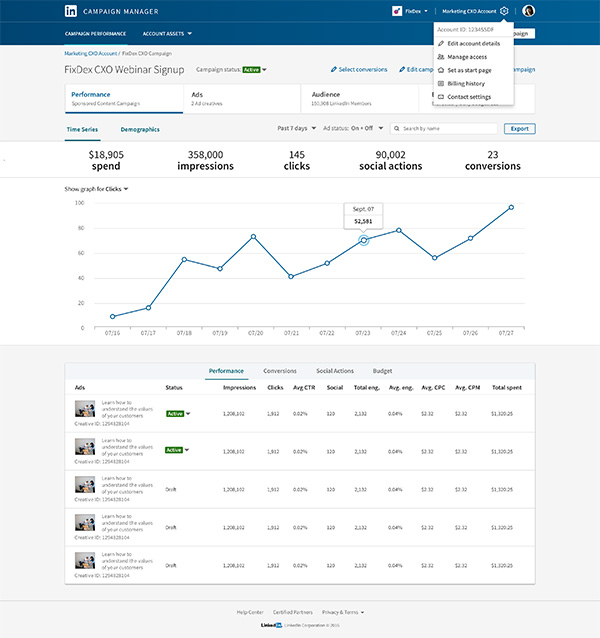 You'll need to enter your associated LinkedIn Company Page if you have one and you'll then be taken to your unique member dashboard. It's here that you'll set up each campaign and create each ad on a granular level.
2. Choose the Objectives of Your Campaign
Next, you'll be asked to choose the objectives of your campaign. This will depend on your end goal - do you want to raise awareness of your brand and get on the radar of prominent industry people? Or do you want to drive conversions on your latest ebook?
Here are the three key goals you can choose from:
Awareness: LinkedIn will optimise these ads and show them to a large number of people to generate a buzz around your brand
Consideration: ads with this goal are geared towards generating website visits, engagement, and views if you're displaying a video
Conversion: conversion-focused ads will promote lead generation, website conversions, and encourage people to take solid action, like applying for a job
3. Select Who You Want to Target
The targeting capabilities on LinkedIn ads are incredible. Dig deep into key information about your target audience to ensure you're reaching the right people every single time.
You can choose from over 20 different audience attribute categories including:
Company size
Company name
Member schools
Member interests
Member groups
Skills
Job title
Job seniority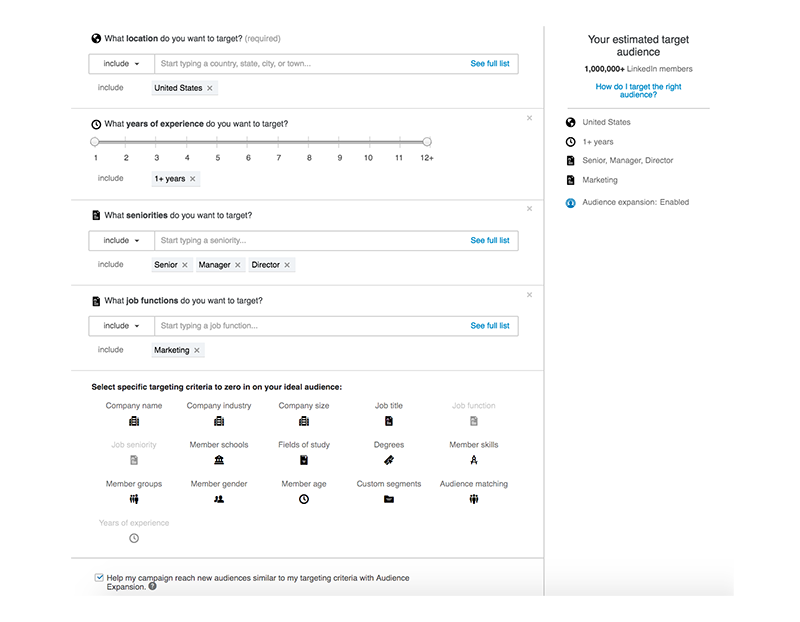 There are plenty more targeting options to choose from, but as you can see, you can get really focused results with the attributes available.
4. Set Your Budget and Schedule
Your budget will have an impact on how many people see your ad. The more budget you have, the more eyeballs you'll get on your ads - it's simple. But you can still get good results even if you don't have a large amount of cash to play around with.
This is also the part where you set the schedule of your campaigns, like how long they'll run for and if you'll skip any days (some brands like to pause ads on the weekend, as LinkedIn users are less likely to be on the site).
When it comes to choosing how you spend your budget, there are three options:
Cost Per Send (CPS): this is limited to Message Ads and you pay for each message that is successfully delivered to a target user
Cost Per Click (CPC): this payment method is usually reserved for action-focused campaigns, like lead generation or event registration, where you pay for every click through generated
Cost Per Impression (CPM): if the goal of your ads is brand awareness, you'll probably want to opt for this payment method which charges you every time a user sees your ad
5. Get Your Creatives Together
The final step in the puzzle is putting everything together. This involves getting any images or videos you want to use made and writing out the copy that will accompany them. Take the time to create copy and images that will resonate with your audience - the more they resonate, the more they'll stand out on user feeds.
6. Track and Measure Your Results
All the moving parts of your LinkedIn ads are now coming together and it's time to see what works and what doesn't.
Keep a close eye on your campaign analytics in your Campaign Manager dashboard and continue to tweak your budget, copy, visuals, and target attributes to find a combination that gets you the best results.
Request a quote
Got a project we can help with? Let us know and we'll get back to you within one business day.